August 17, 2014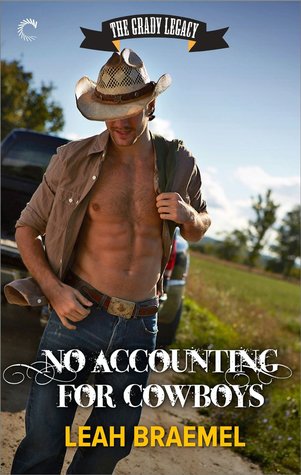 No Accounting For Cowboys (The Grady Legacy #2) by Leah Braemel
ASIN #B00I15VLDQ
Published:  May 19, 2014
Jake Grady loves Bull's Hollow ranch and all the challenges and hard work it entails. But the past year hasn't been easy—his father's good name has been tarnished, and new financial problems are threatening to destroy everything the Gradys have built. Performing live under a stage name has become his escape, a way of blowing off some serious steam.

Accountant Paige Reynolds found Jake's guitar-playing alter ego intriguing, but her connection with the real Jake sends her attraction into overdrive. When she's summoned to make order out of the chaotic paper trail at Bull's Hollow, he sets her world a-rocking—both in bed and out. But Paige has a plan; she's determined to create her own path for the future, but is soon left scrambling for firmer ground.

Good news about Jake's potential singing career is followed by the revelation of another family secret, one that has him questioning whether he belongs at Bull's Hollow at all. But leaving the ranch would mean leaving his family…and Paige. How much is he willing to give up for a real shot at fame?
**Hotness Rating 3 out of 5**
This is my first Leah Braemel book and I loved it! No Accounting for Cowboys is the second book of The Grady Legacy, but I believe can be read alone. I didn't read the first book of this series and I never felt like I was missing something important. There was mention and reference, so it probably wouldn't hurt to read book one, but not a deal breaker if you didn't. This book was so good I plan on reading book one, anyways.

Jake Grady loves his ranch and his family, although everything he loves is in a bit of turmoil right now. His best friend is barely talking to him, his brother disregards him at best, and the ranch records are being gone over with a fined tooth comb. Is it any wonder that he keeps his pastime a secret? He loves to sing and it gives him joy! It's just sad he has no one to really share this passion with.

Paige Reynolds knows her accounting job is on the line. One of the partners has made no secret of wanting Paige out. So, when she is assigned to the Grady ranch she knows she has to do a good job. Imagine her surprise when she finds that one of the Grady heirs is the very same cowboy that sang his way into her heart the previous night. 

This book had it all – a family mystery, conflict, sweet, well-developed characters, sexual attention and heat, and great dialogue. I really recommend this story for a great cowboy read that won't weigh you down with mindless fluff.

I received this book from NetGalley.com in exchange for my honest review.
I give No Accounting For Cowboys 4 Flaming Hearts